BFS Services boasts over 400,000 square feet of commercial and contract warehouse space.  BFS Services provides full service warehousing.  With clear ceilings over 30 feet, racked space and floor space – BFS Services can handle all of your warehousing needs.  BFS also has many warehouse features and services that sets us apart from our competition.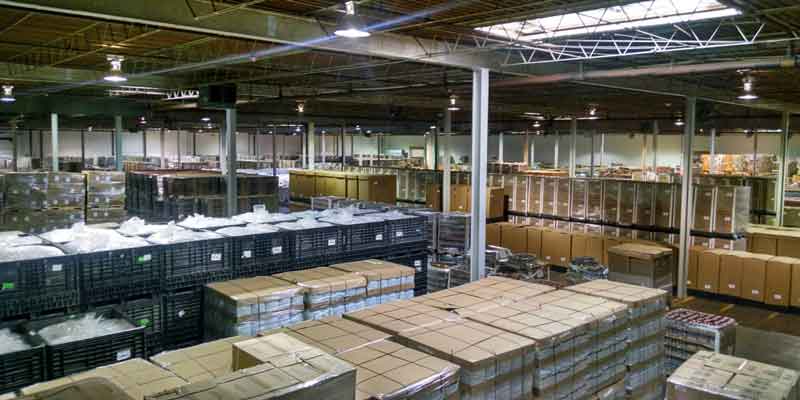 DFW Warehouse Features
Inventory Management System / Inventory Control System
BFS provides clients with a highly customizable inventory management system (IMS) or inventory control system (ICS).  A secure web portal is provided for full web visibility.  The web portal provides inventory levels, reporting, detailed shipping history, online order entry, shipment tracking as well as lot / serial number control and tracking.  The system also supports document imaging.
The IMS / ICS system also provides order processing, quality control, labeling services, bills of lading, packing lists, EDI, billing and more.  The warehouses are also equipped with all forms of bar code scanning and cross docking scanning.
Warehouse Insurance & Safety
BFS Services has full warehouseman's liability, general liability and Fidelity coverage.  Drivers are bonded and insured.
All warehouses have sprinkler systems with 100% coverage.
Warehouse Security
BFS Services warehouses are secure facilities.  The Coppell warehouse is TSA Certified security (and only 10 minutes from DFW International Airport).
All warehouses have recorded cameras and security systems in place.  Alarms are monitored 24 hours a day.  The building security system is monitored for fire and theft.  The office parks also have uniformed security guards.
All drivers and trucks are GPS tracked and monitored.  After hours services are available on trucking.
Warehouse Physical Features
BFS Services warehouses are equipped with full logistics equipment. There are over 4,000 racked pallet locations plus thousands of square feet of floor space great for container breakdown, sorting, and local distribution.   All pallet locations are designed for standard 40″x48″ pallets with narrow aisles.
BFS warehouses can accept various trucks and docking needs.  There are over 40 covered docks with concrete loading ramps (flatbed offloading ramps) or flatbed capabilities.
BFS has forklifts with a 7,000 pound lift capability and has clamp trucks as well.
BFS' Carrolton warehouses provide drayage (railroad access, rail to warehouse / warehouse to rail).  Please contact us for more information.
Our family owned business will ensure that you and your job receives the attention it deserves.