What has contributed to BFS Services continued growth in the past 40 years?
As we celebrate the 40th anniversary of our company, let us look back and honor our history and what contributed to our growth in the past four decades.
BFS Services maintains an aggressive and consistent growth since its establishment in 1977. What started in the late 70s by three entrepreneurs taking a risk to make a name for themselves, with 1,200 sq ft office space, a bobtail and a van, is now a 3PL leader with 500,000 sq ft warehouse space, 80 pieces of equipment and 110 employees.
Through the years, BFS has established itself as a strong asset-based 3PL leader in the DFW area. Our services include warehousing, distribution and transportation. This is the result of BFS business philosophy, valuing our employees, clients and vendors as an integral part of our supply chain. Every aspect of our development required responding to the customer and adapting to the market demand, and developing collaborative and positive partnerships.
Along the way, we realized that the best marketing method is not a cold call sales pitch, but a well trained and proud representative providing the service of BFS Services. This includes material handlers, truck drivers, dispatching and office personnel, positively impacting our customers as well as their customers.
At BFS, we pride ourselves of developing long-term partnerships through excellent customer service. Several of our clients have been with us for more than 30 years. We have achieved this by focusing in the dynamics of our operations, tailored to building a long term commitment for success. Four decades of replicating this model has assured us a road map to bringing distribution solutions not just in the Dallas metroplex, but moving freight both nationally and internationally as well.
In the beginning, BFS stood for "Best Freight Service", while it still reflects our dedication today, we are now known as "Your Complete Distribution Solution" because have exceeded that initial level of service by being a full scale 3PL service provider in the Dallas, Fort Worth area. Whether it is cross docking, ATM set up, product distribution, freight brokerage, and other activities related to logistics and supply chain, BFS is a complete 3PL solution.  To be the best means providing the correct, courteous and consistent service each and every time, along with  continuous and committed customer relationship in a competitive market.
Looking forward, our goals are many, but they are simple. We will continue the BFS Services commitment to providing our customers with the best service. We will continue our Journey to Operational Excellence, engaging our people in implementation of Lean Principles, and walk the path to becoming a World Class 3PL provider. We will continue to grow with our customers!!
In January 2018, we held a festive celebration to recognize key partners in BFS Services success at its core competencies of conducting freight, warehousing and delivery. Not only do we have customers spanning the 40 years of BFS Services existence, we also have dedicated employees who we recognized during the party for their continuous and loyal service for over 20 years or more.
Employees and founders such as Mr. Jerry Foitek Sr. and Mr. Edward Briggs shared stories from their respective areas of insight and all present were given a token of appreciation to remind them of BFS Services excellence in logistics, warehousing and distribution.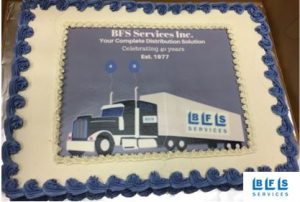 Here's to another 40 years!